Here is the Wordmaster Link to the the website for more information:
1. What is the Wordmaster Challenge?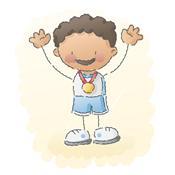 The
WordMasters Challenge™
is a vocabulary competition based on completing analogies. Meets are held right in your own school three times per year. Download word lists for your team's grade and difficulty level and get to work! A few weeks later, download the analogy tests. Report your scores to compete with public and private schools throughout the country.






2. Why do we take part in the Wordmaster Challenge?
Solving analogies develops vocabulary skills along with :
-Develop verbal reasoning abillties.

-Address higher-order thinking skills (HOTS).

-Emphasize logic and reading comprehension.
3. How does Wordmasters work in the 3H classroom?
a. Students receive words from me in the classroom
b. Students are assigned to look up all definitions of 1-2 words
c. Students are given a Wordmaster flashcard kit consisting of the
vocabulary words, index cards, and a rubber band
d. Students share their definitions with the class and make vocabulary cards
e. Students work to learn their vocabulary words before they take their
Wordmaster Challenge (about 6 weeks)
f. I will introduce the various types of analogies in the classroom
g. Students will practice solving analogies in the classroom and in take home
packets
h. Students will take the Wordmaster Challege x3 during the course of the year
4. What tools can help my child prepare for the Wordmaster Challenge?

WORDMASTER PREP:
2. go to the Quizlet website
1. Here are some websites for practicing analogies: